Maximum Energy Savings, Minimum Cost
The system exchanges heat and coolness with the ground while pumping water through it, using the soil as a condenser. Your home is heated and cooled by the system using safe non-ozone refrigerant. A geothermal heating and cooling system can reduce homes' heating expenditures by 40–70% and cooling costs by 30–50%, respectively, according to the Environmental Protection Agency. Federal tax credits may also be available to you as a means of financing your purchase. Fante's HVAC specialists are here to assist you.
How Do Geothermal Systems Function?
Geothermal systems use a compression system to harvest or distribute heat from the soil and use it to continuously heat and cool your home. A closed loop of pipes that are buried underground and filled with a non-toxic solution makes up a geothermal system. Depending on the size and geographical characteristics of the property, this loop can be constructed either vertically or horizontally. Even a water source can be present in the scene. A low-wattage pump is then used to power the entire system.
Utilizing the relatively constant temperatures a few feet below the surface of the ground, the pump circulates the water contained within the pipes. While temperatures in different parts of the world might vary greatly from season to season, they often remain at an average temperature underground. Temperatures below the earth's surface will differ from those above because an average temperature is maintained there. In the chilly winter months, it will be warmer underground, while in the hot summer months, it will be cooler. This type is used by geothermal HVAC systems. In the winter, heat is transferred from the earth through the pipes to the indoor HVAC system, which then circulates warm air around the house. The process is reversed in the summer, when heat from the house is transmitted outside through the pipes to the colder ground below.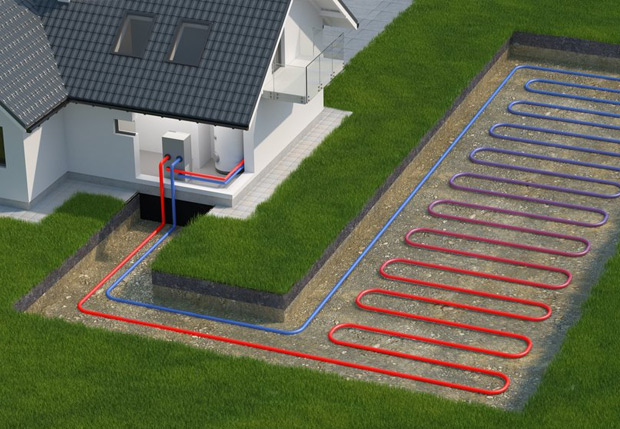 Contact Us Today by filling out the form below, or calling us at 1-609-835-1512
Quick Contact
"*" indicates required fields
Geothermal Heating and Cooling System Installation
There are numerous installation choices because the closed-loop that powers your geothermal system is buried. The type of geothermal system installation that will be most efficient depends on the particulars of the house and the property. Homes utilize energy in different ways and have varied heating and cooling requirements. It is necessary to take into account both the system's size and the loop field's design. Problems or a lack of effectiveness are likely to arise if either is too tiny or too large. Book a site evaluation with a Fante's specialist to find out if a geothermal system is a good option for your house.
Benefits of a Geothermal Heating and Air Conditioning System
No large machinery or sound outside that interrupts the home's occupants or neighbors.
Systems are very energy efficient, with noticeably lower monthly overall energy costs.
Properly installed geothermal systems can last many years and very rarely require a great deal of maintenance.
A large property is not always a requirement for a geothermal loop field. Many options are available for the buried pipes, both horizontal and vertical.
Geothermal HVAC systems do not have a direct negative impact on the environment. Very eco-friendly.
Temperature Stability Reduces Your Carbon Footprint
All year round, maintain a suitable temperature in your home. Geothermal heating and cooling systems, often known as ground source heating and cooling systems, regulate indoor temperatures by pumping water via underground loops of piping. With this method, less fuels are burnt, which lowers monthly energy bills. These systems have a 450% operational efficiency potential. Geothermal HVAC systems have received favorable reviews from the U.S. Department of Energy and the U.S. Environmental Protection Agency for their energy efficiency and environmental friendliness.
Geothermal Heat Pump System Maintenance
Geothermal heating and cooling systems need routine maintenance even though they use the earth's constant temperature to function effectively. A geothermal system will last 20–25 years if maintained properly. Your system can be examined by the heating and cooling specialists at Fante's to make sure the coils are clean and the heat pump is operating properly. Your HVAC systems will be inspected annually as part of our Front-of-the-Line Family Plan, which also includes a repair warranty. Additional benefits include repair discounts, priority service, and more.
Are Geothermal Heating and Air Conditioning Systems on Your Radar?
A Fante's professional is prepared to assist you, whether you are in the research stage, choosing whether geothermal heating and cooling is the way to go, or preparing to build a system to best fits your needs. Make an appointment for an evaluation with a Fante's expert by calling 1-609-835-1512.