Precision Gas Line Repair Services
If you own a home in New Jersey and need your natural gas line inspected or repaired, turn to the team at Fante's Plumbing, Heating, and Air Conditioning. We're a fully licensed and insured PHVAC contractor that's served this region for more than 25 years. Our company performs precision gas line repair, and you can hire us with the confidence that we'll repair your gas line the right way the first time around.
Natural Gas Lines
Your home may have access to a natural gas line, but you need your own gas line—or gas piping—to deliver the natural gas into your home and to the appliances that will burn it as fuel. Most residential systems will have a primary line that taps into the mainline that serves as the source. Off your primary line, you'll have either branch lines or drop lines, or a combination that delivers gas to your appliances. Gas always flows from high to low pressure, and that fact is used to distribute gas within your home.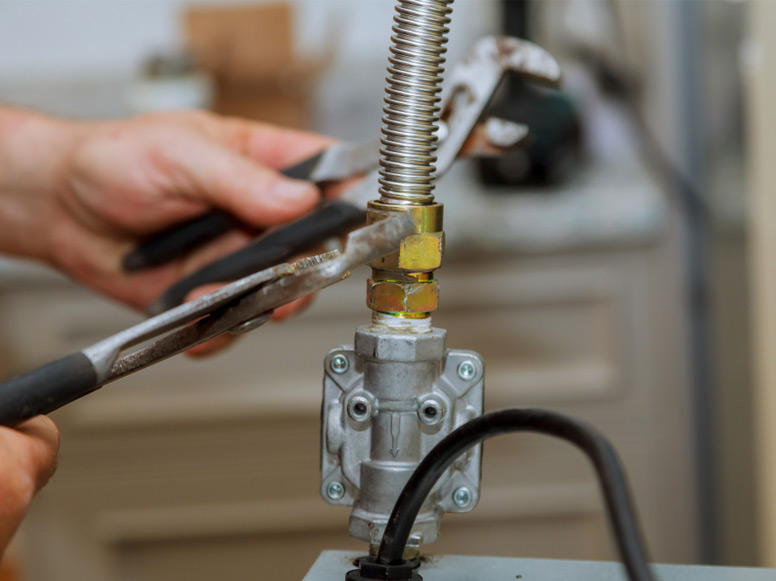 Contact Us Today by filling out the form below, or calling us at 1-609-835-1512
Quick Contact
"*" indicates required fields
Signs You Need Gas Line Repair
It may not always be obvious that you have a gas leak and are in need of gas line repair, so it's important to be aware of all the different signs and watch for them. Gas companies add a chemical called mercaptan, which is what causes the rotten egg smell, and if you notice it, you should leave your home immediately and call for assistance. It's also possible that you develop physical symptoms but don't notice the smell. A random onset of lightheadedness, dizziness, or nausea can all indicate gas poisoning, and you should leave the home until you can determine the cause. Gas leaks can occur without levels being high enough to affect humans and pets, and a common sign of this is dying and dead houseplants. You may also have gas piping issues without an actual leak in the home, and this may be indicated by malfunctioning gas appliances or a gas bill that has suddenly spiked.
Why You Should Choose Fante's
Choose Fante's for gas line repair because we're a trusted and established company. All of our work meets or exceeds residential codes, and we pride ourselves on delivering the same great customer service and care that made us a success when we were just a small company back in 1996.
What Causes a Gas Leak in a Home?
There are three main causes of gas leaks in homes: appliances, faulty piping, and poor ventilation. All appliances that burn natural gas can lead to a gas leak and therefore need to be inspected and maintained on a regular basis in order to ensure that they're in a safe condition. Gas piping is susceptible to corrosion over time, and an older home will eventually need gas line repair or replacement. Gas appliances create carbon monoxide as a byproduct, which must be vented, and poor ventilation can cause that gas to accumulate in the home.
Timely Gas Line Repair
Gas line wear is a serious concern that can not only hit you in the wallet but present serious health risks to you and your family. At Fante's, we encourage homeowners to schedule an annual inspection and to have preventative gas line repair performed as needed. Taking a break-fix approach to your gas piping will cost you more money in the end, and it can even be downright dangerous.
Your Home's Appliances
Having access to a natural gas line lets you benefit from gas appliances, which are certainly cheaper than their electric counterparts over the long term and often superior in other ways. But don't let just anyone inspect and hook up your gas appliances. When you choose Fante's, you'll know that your appliances are configured optimally and safely.
Gas Line Maintenance Services
Fante's encourages area homeowners to have their gas piping inspected annually. During that service, we'll inspect your primary gas line, all of your branch and drop lines, and the connections to your appliances and HVAC system. We'll ensure that the entire network is safe and efficient, and we can recognize issues and recommend preventative gas line repair long before serious problems occur.
Trust the Experts at Fante's for Gas Line Repair
Reliable gas line repair is important to the well-being of your family, and Fante's has been giving area families peace of mind for decades. Call us today at 1-609-835-1512 or reach out to us online to schedule an appointment or with any questions about the services we offer.