Prevent Water Damage to Your Property
If you have a basement in your home, then having a working sump pump is a crucial piece of equipment to prevent flooding inside your home. But how do you know if it even works? If you need a repair, or replacement, or are inquiring about installing a new sump pump, Fante's offers quick, reliable services to handle your needs as efficiently as possible. When it comes to your home, a sump pump is a very proactive way to prevent flooding in rainy, wet conditions.
What is a Sump Pump?
A sump pump is a type of pump that is installed in a basement or crawlspace to prevent water damage. It works by collecting excess water from around the foundation of a building and pumping it out to an external location, such as a storm sewer or dry well. A sump pump installation is especially useful in areas that experience heavy rain or flooding, as they help to prevent water from entering the basement and causing damage to the home.
Contact Us Today by filling out the form below, or calling us at 1-609-835-1512
Quick Contact
"*" indicates required fields
Signs You Need a Sump Pump Installation
There are several signs that indicate that you might need a sump pump installation in your home, and the experts at Fante's are here to help. Some of the signs include persistent water in your basement or crawlspace, water seepage in the walls or floors, damp or musty odors in the basement, and discoloration or staining of basement walls and floors. If you notice any cracks in your foundation or if your basement is prone to flooding, it may be time to consider a sump pump installation. If you're not sure if you need a sump pump, our plumbing professionals at Fante's can assess your home and determine whether a sump pump would be beneficial.
Why Choose Fante's?
At Fante's, our plumbing experts are dedicated to providing the highest quality service to our customers. We understand that your plumbing needs are important and that you want a solution that is both reliable and affordable. Our technicians are highly trained and experienced in all aspects of plumbing, including sump pump installations, repairs, and maintenance. We use only the highest quality materials and state-of-the-art equipment to ensure that your plumbing systems are functioning properly and efficiently. At Fante's, our team is committed to providing excellent customer service and ensuring that you have a positive experience from start to finish.
Benefits of a Sump Pump Installation
Sump pump installation offers a range of benefits to homeowners. A sump pump is an essential component in preventing water damage and protecting your property from flooding. It works by collecting water from areas where water tends to accumulate, such as basements and crawl spaces, and then pumping it out and away from your property. This helps to keep your property dry and prevent the growth of mold and mildew, which can cause health problems and damage to your structure. Also, a sump pump can help to prevent damage to your furniture, appliances, and other personal belongings. Investing in a sump pump installation from the pros at Fante's can provide peace of mind and help protect your property from costly water damage.
Protect Your Investment with our Plumbing Maintenance Plan
Protecting your investment with a plumbing maintenance plan is a smart and proactive step to take in ensuring the longevity and efficiency of your plumbing systems. Regular maintenance can help to identify and prevent potential problems before they become more serious, saving you time and money in the long run. Our maintenance plan includes regular check-ups and inspections of your plumbing systems, ensuring that they are functioning properly and efficiently. By catching any issues early, our experts can address them promptly, preventing the need for more extensive and costly repairs in the future. Our maintenance plan also includes priority service, so you can rest assured that any necessary repairs will be performed promptly and with the utmost care. Invest in a plumbing maintenance plan with Fante's today.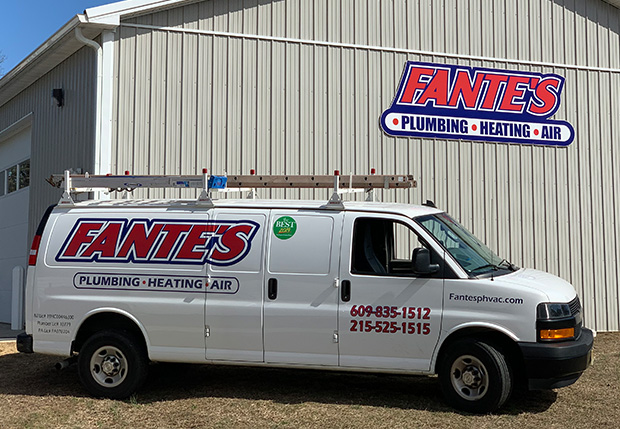 We Also Handle Sump Pump Repairs
At Fante's, our team of experts is not only skilled in sump pump installation, but we are also equipped to handle trusted sump pump repairs. In the case that you already have a sump pump but it is in need of repair, our team is here to assist. Our technicians have a wealth of experience and knowledge when it comes to repairing all types of sump pumps, and they are dedicated to ensuring that your system is running smoothly and efficiently. Whether you are experiencing a problem with your sump pump's switch, motor, or any other component, we are here to provide you with a prompt and reliable repair solution.
Trust Fante's for Your New Sump Pump Installation
When it comes to a professional sump pump installation, the experts at Fante's are the ones to trust. Our team of highly skilled technicians is dedicated to providing you with the highest quality service and ensuring that your sump pump is properly installed. Whether you are looking to install a new sump pump or replace an old one, our technicians will work closely with you to assess your needs and provide you with the best solution for your home or business. With Fante's, you can have peace of mind knowing that your sump pump installation is in good hands. Contact us online today or give us a call at 1-609-835-1512 to schedule a consultation and see why we are the trusted choice for sump pump installations in the area.