Stay Warm With Our Residential Heating Repair Services
Your go-to authority for home heater repair services in Bellmawr, NJ is Fante's. Our staff of HVAC specialists is skilled, knowledgeable, and well-trained to swiftly and affordably fix the heating system in your house. We are aware of how upsetting it might be if your heater breaks down in the winter. For both ducted and ductless heating systems, our personnel is available to carry out major or minor repairs on furnaces, heat pumps, boilers, and other types of heating equipment. Call us right away at 1-609-835-1512 for service, or fill out our contact form to arrange an appointment for a home heater repair.
24 Hour Heater Repair in Bellmawr, NJ
Even though there is never a good time for a home heating system to malfunction, these mechanical issues always seem to occur when least expected. To get your system up and running as soon as possible, Fante's offers skilled HVAC experts on call 24 hours a day. Even on the weekends and on holidays, you can phone us at any time and we'll send someone out to your house right away. No emergency service call is ever subject to an additional fee from us. No matter what, you'll always receive the same repair rate.
Contact Us Today By Filling Out The Form Below
"*" indicates required fields
Types of Residential Heaters We Repair
Fante's specializes in repairing various sorts of home heaters, including those that run on natural gas, propane, and electricity. Homeowners in Bellmawr, NJ have a variety of heating systems in their homes. Even though forced-air HVAC systems are the most widespread, we are also qualified to service central heat pump systems, standalone mini-split units, and all varieties of boilers, including hot water and steam boilers, radiators, connectors, radiant floor heating, and more.
Gas & Electric Furnaces
The most common heating option in the area is still a furnace that runs on gas, electric, or propane. Through the use of a heat exchanger, these systems force cold air to warm up before forcing it through ductwork and vents to all rooms in your house. It's possible for furnaces to malfunction in cold weather due to their numerous mechanical parts, leaving not only your family but also your water pipes outside in the cold.
Radiant Heat Boilers
In Bellmawr, NJ, some older residences contain hot water or steam radiant heat boilers that are powered by electricity, natural gas, propane, or other fuels. These appliances warm water, which is then sent through pipes to radiators, connections, or radiant heating panels to provide heating. Your home will get cold when your boiler system is unable to heat the water, and your pipes run the risk of freezing or breaking, both of which would result in significant damage.
Heat Pumps
Since they provide a fuel- and energy-efficient heating option, heat pumps have become popular among households during the past ten years. These units circulate the air through a centralized duct system to cool your house in the summer and keep it warm in the winter. Additionally, they need seasonal maintenance because older systems may break down without it and require house heater repair services.
Ductless Mini Splits
Ductless mini-split systems are popular among homeowners who have older homes without ductwork or expansions in newer homes who want to provide zoned heating and cooling. They function similarly to other kinds of heat pumps and need seasonal maintenance. For these units, Fante's professionals can provide house heater repair services to keep your family warm over the winter.
Contact Us Today by filling out the form below, or calling us at 1-609-835-1512
Quick Contact
"*" indicates required fields
Should I Replace My Home's Heater?
It's not always practical to fix a home heating system. It's usually time for a new heating system if your older heating system has required several repairs or if you've seen an increase in your energy costs.
A member of our experienced professionals will sit down with you, evaluate your property, and assist you in choosing the system that best suits your requirements and price range. Although the purchase and installation may cost money up front, the increased efficiency of today's heaters will allow you to save money over time. While we will make every effort to ensure that you get the most out of your heater, when selecting a new system, we also keep your best interests in mind.
Utilize Heater Maintenance to Assure Your Heater is Efficient
All home heating systems contain moving parts that could malfunction mechanically. By scheduling routine maintenance, you can maintain your system clean and more energy-efficient while avoiding many typical faults. We provide maintenance contracts that can help you save money over time by preventing the need for home heater repair services. In addition to a thorough cleaning, tightening, and lubricating of all parts, as well as the replacement of any worn parts that require it, our heating tune-ups involve a multipoint check to look for issues. A yearly HVAC maintenance schedule can guarantee your heating system receives prompt service and assist in avoiding an unplanned house heater repair.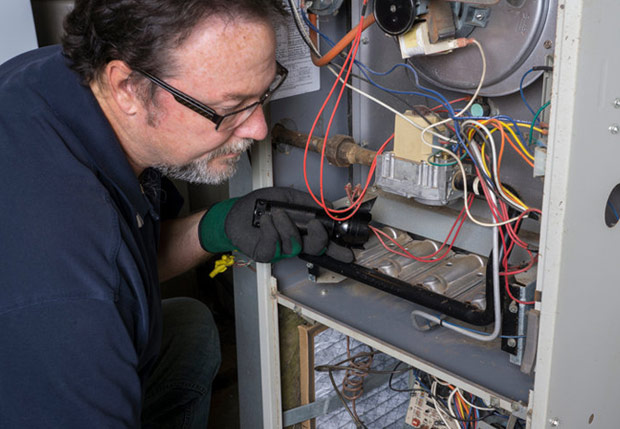 Schedule Home Heater Repair Services in Bellmawr, NJ Now
In Bellmawr, NJ, Fante's has offered hundreds of pleased homeowners home heater repair services over the ast 40+ years. To fix your furnace, heat pump, boiler, mini-split, or any other type of heating appliance you possess, our licensed heating specialists are ready for both routine maintenance appointments and urgent visits as needed. To make an appointment, get in touch with us right away by dialing 1-609-835-1512 or completing our simple online request form.