Get Dependable Heater Repair When You Need It Most
You want to get the furnace in your home fixed as soon as possible if it isn't functioning properly. Technicians from Fante's are on call 24/7/365 to provide dependable furnace repair services in Warwick, PA, and the surrounding area. Electric, natural gas, and propane furnaces are all familiar to us. Our vehicles are equipped with the most common parts, and we show up on time for appointments, so we can typically fix your heater in one trip.
We can offer some suggestions for a replacement heater if yours is beyond saving. In either case, our skilled HVAC specialists will make every effort to reactivate your heat so you may continue to live comfortably. Instead of waiting in the cold, schedule a service by calling 1-609-835-1512 or contacting us.
"*" indicates required fields
We Repair Several Different Types of Heaters
Most homes in Warwick, PA have furnaces, but Fante's HVAC experts can also repair different heating systems. We can repair any type of heater you have in your home, including natural gas, propane, and electric models. We also provide repair services for ductless mini-split systems and boilers.
Heat Pump Repair
If your home uses a heat pump for heating and cooling, we're able to help keep it running efficiently. Some heat pump systems also are paired with a furnace for additional heating capabilities.
Boilers / Radiant Heat Repair
Because water is a great conductor of heat radiant heat systems are still popular. If your boiler isn't working properly your home can quickly become very cold as the pipes will retain cold water.
Ductless Mini-Split Repair
If you have an older home or rely on a ductless mini-split system to heat underserved areas of your home, you understand the importance of keeping the warm air flowing so that you can stay comfortable.
Common Reasons for a Furnace Repair
Lack of maintenance is the root cause of a lot of furnace problems. Regularly changing your air filters is one of the easiest ways to keep the parts of your furnace from becoming overworked. To ensure that warm air is distributed evenly throughout your house, your burner, heat exchanger, blower motor, air ducts, and thermostat all collaborate. For this reason, it's critical to be alert for the warning signs and symptoms of furnace failure.
Dirty or Clogged Filters
No Heat
Not Enough Heat
Thermostat Problems
Frequent Cycling
Hearing Odd Noises
Persistent Burning Smell
Pilot Light Issue
Contact Us Today by filling out the form below, or calling us at 1-609-835-1512
Quick Contact
"*" indicates required fields
Emergency Furnace Repair in Warwick, PA
The moment your furnace is most needed, it almost always is when it will break down. Fante's provides 24/7 furnace repair services so you never have to wait long to have your home warm again. There is never a good time to be without heat. Even on holidays, we have helpful and competent HVAC specialists on call. Because you cannot predict when you may need your heater repaired, we're always standing by to help. Don't hesitate to call us at 1-609-835-1512 if you need immediate assistance. We will send someone out as soon as we can on exceptionally cold nights to avoid your home from becoming so cold that pipes can freeze.
Avoid Expensive Repairs by Performing Regular Maintenance
Regular maintenance throughout the year is the greatest approach to increase the lifespan of your heater. Changing your air filters regularly will prevent additional strain on your mechanical components and assist maintain air moving freely through the system. A precise heater tune-up and heater maintenance plan are available from Fante's, both of which are intended to keep your system running as efficiently as possible. Every year, a 24-point inspection and cleaning are performed to make sure your heater is prepared for the upcoming chilly winter. To help you prevent any significant unforeseen costs, we'll also keep you informed about when your furnace might need to be updated.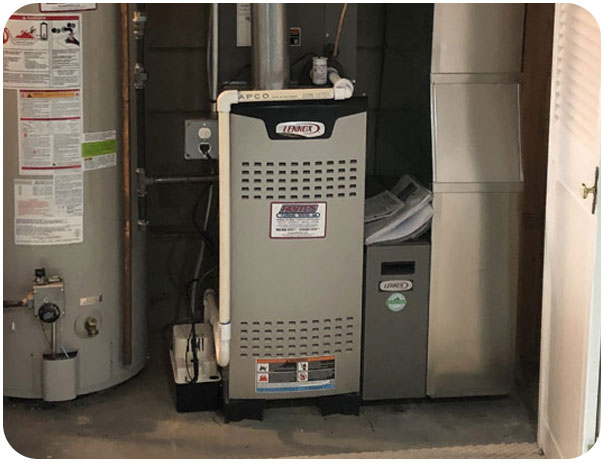 Choose Fante's for Your Warwick, PA Furnace Repair Services
Fante's can identify problems with your gas, propane, or electric furnace and try to have them immediately fixed. Because of our focus on detail, dedication to providing excellent customer service, and devotion to doing the job right the first time, homeowners in Warwick, PA pick Fante's. If you need an emergency furnace repair service, call us at 1-609-835-1512 or schedule your service today.