Get an Efficient New Air Conditioner
The air conditioning replacement specialists at Fante's are here to help you with your home's air conditioning issues. When it is time to replace your air conditioner we understand that purchasing the system is a big decision, but we are here to help make the process is as simple as possible. Our experts can help you get the right-sized air conditioning system for your home that will operate the most efficiently. With our extensive knowledge and expertise, we guarantee that you'll enjoy optimal comfort and cost savings with your new air conditioner. Trust Fante's to deliver superior cooling solutions for your home, backed by our longstanding reputation for excellence in HVAC services. Contact us today to get a quote on your new air conditioner and see why Fante's has been South Jersey's trusted HVAC provider since 1981.
Contact Us Today by filling out the form below, or calling us at 1-609-835-1512
Quick Contact
"*" indicates required fields
Reasons for Air Conditioner Replacement
If your air conditioner won't turn on at all or is hardly blowing any cold air, those are signs that it may be time to replace your air conditioner. Uneven cooling or a system that is constantly running can cause spikes in your electricity bill and general discomfort. Fante's offers maintenance and repair services that can help extend the life of your air conditioner, but being prepared for the need to install a new air conditioner may save you more in the long run.
Air Conditioner Over 10 Years Old
Newer air conditioning systems that receive seasonal maintenance over the course of their life can usually last upward of 15 years. After around the 10-year mark, air conditioners often no longer run at peak efficiency and are likely outdated from a technological standpoint. We recommend regular maintenance because a technician can usually spot issues before they develop into a more serious problem.
Large Increase in Energy Bills
Your monthly utility bill can often reveal troubles with your air conditioning system. If you have tracked your cooling bills over the years, you'll be able to easily see a usage pattern. Investing in a smart thermostat and applying energy-saving tips can help keep operating costs down but if your bill is suddenly higher this year, it may mean that your AC is working too hard and may need repair or replacement.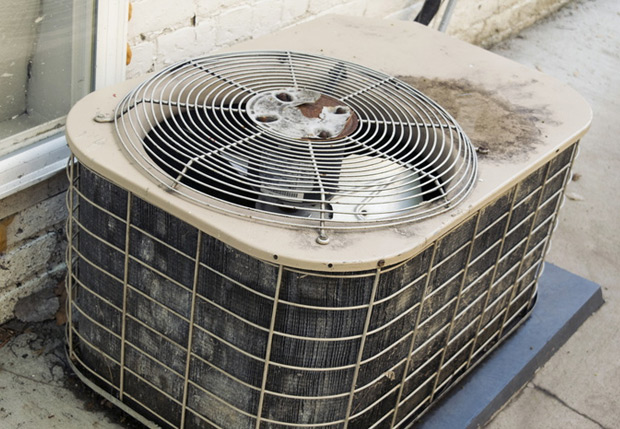 Wanting a More Efficient System
As of January 1, 2015, the federal government has mandated that all AC units have a minimum SEER rating of 14. SEER stands for Seasonal Energy Efficiency Ratio and is a measure of how efficient your air conditioner or heat pump is at cooling. If your system has a lower rating than that, it likely indicates that it is older and may not be efficient. The higher your SEER rating is (up for 25), the more money could save each month. If you are unsure of what your SEER rating is and would like to know, Fante's can provide an inspection.
Constantly Needing AC Repairs
Needing an AC repair on occasion over the course of your system's lifespan is to be expected but if the repair bills are starting to pile up, it may mean that the unit is nearing the end of it's life. If your air conditioner unit is still relatively new, it could indicate improper installation or even misuse of the system. While repairs can seem like the more affordable option in the short term, frequent repairs will end up costing you more money, time, and discomfort.
Still Using a Freon (R22) System
Freon—which goes by the technical name refrigerant R-22—has long been used in air conditioners but has since been phased out by the federal government due to the harmful effects it has on the ozone. Manufacturers stopped making R-22 in 2020, and the supply available is limited. As it continues to diminish, costs will rise, which will make it even more cost-effective to switch to a new system that uses R410A refrigerant.
There are a number of different cooling options for homeowners in South Jersey and Pennsylvania. In older homes that do not have ductwork, ductless mini-splits are often a practical option. If ductwork is available or can be installed, a central air conditioner or heat pump is an option. You can also add mini-splits to your existing system to achieve zoned cooling and heating. Whatever you need, Fante's can help you stay comfortable.
Central air conditioning is the most prevalent cooling methods for homes and businesses in our region. Fante's installs and replaces them in addition to providing maintenance and repair services.
Often used for additions or to retrofit older structures, ductless mini-splits provide both cooling and heating. They are not only affordable but highly efficient and thus, cost-effective long term.
Most heat pumps are air sourced. But you can also invest in a heat pump that is ground sourced or geothermal. Geothermal heat pumps cost more upfront but are highly efficient and thus more cost-effective over the long term and better suited for harsh winters than air-sourced units.
Heat pump systems are similar to central air conditioning systems. The main difference is that a heat pump can essentially run in reverse and thus both heat and cool a home or business.
Affordable Air Conditioning Replacement Contractors
Air conditioning replacement for your home is not a small investment. We understand that financing is often required and have partnered with GreenSky to help ease the burden. With credit approval, we can install your new air conditioner now, and you can pay for it over time. We offer financing for all of the installations, conversions, and replacements that we perform, and that extends to heat pumps, furnaces, water heaters, and HVAC needs.
Choose Fante's for Your Air Conditioner Replacement
Fante's is a trusted name in HVAC services in South Jersey and Pennsylvania. We welcome the opportunity to earn you as our next loyal customer. If you have any questions about air conditioning replacement or would like to schedule an estimate or service appointment, call us at 1-609-835-1512 or contact us today.