AirRanger™ Whole-House Polarized Electronic Air Cleaner
Any householder who wants to make sure that the indoor air they breathe is free of as many particulates as possible is encouraged to use AirRanger enhanced air filtration system. Because it integrates with your existing HVAC system and cleans your entire air supply whenever the blower is on, the AirRanger solution in particular is appealing. The AirRanger system can capture particles as small as 0.3 microns because the media is 97 percent effective at that size. That includes smoke, dander from pets, pollen, dust, grime, and even airborne infections. Along with installing AirRanger, our organization also provides 100% customer satisfaction, competitive price, and up-front pricing. Contact us right away to find out more.
Efficient Air Filtering System
The AirRanger™ is 97% efficient at capturing particles from breathable air, particles as small as .3 microns (that is 0.000039 of an inch).
Efficiency increases as the media fibers load. The 3% that pass through the air cleaner are primed to be captured as polarized masses the next trip through the duct system. Very small masses, but a mass nonetheless.
A polarized media air cleaner is highly beneficial to a home since continually circulating indoor air cannot experience the benefit of purification through the sun, wind, rain, or lightning.
Contact Us Today by filling out the form below, or calling us at 1-609-835-1512
Quick Contact
"*" indicates required fields
Air Quality in Homes Today
The air inside your home may be just as filthy as the air outside if there are no air filters or other methods of air purification. The problem of poor air quality has gotten worse as contemporary housing has developed and energy efficiency has been given more priority. According to the U.S. Environmental Protection Agency, air pollution is now one of the most serious health dangers facing the ordinary American and is frequently 10 times more intense indoors than outdoors.
While much of the pollution in our homes comes from outside sources, there are also many internal sources. Household cleaners, air fresheners, candles, house plants, dead skin, hair, and so on are examples. Even the materials used to construct your home, as well as the furniture you fill it with, can emit volatile organic compounds. Poor indoor air quality can lead to dust accumulation, which exacerbates the problem, irritants that affect your respiratory system, contaminants that trigger allergy and asthma symptoms, and an increase in the presence of bacteria and viruses, which can make your family sicker.
Millions of airborne particles can be found in just one cubic foot of indoor air. In a 24-hour period, the blower in your home HVAC system can move more than 1 million cubic feet of air. If there is insufficient ventilation in the home, the particulate count rises. Many of these particles emit odors, making it difficult to keep your home smelling fresh. They promote the growth of bacteria, viruses, dust mites, and other organisms, as well as providing a food source for mold spores, which require more than just a damp, warm, and dark environment to thrive.
Why Choose the AirRanger™ Filtration System
While standard air filters, like the one required for your HVAC intake, trap large particulates and thus protect your HVAC system, they do not trap small particulates that can affect your breathing and other aspects of your health. The AirRanger system's media air cleaners can trap much finer airborne contaminants and fit directly into the filter tracks that your current central HVAC system already has. This means that no costly ductwork modifications are required. Furthermore, these filters not only clean the air you breathe, but they also continue to trap all of the foreign matter that can cause your heating and cooling equipment to age prematurely and require more frequent repairs.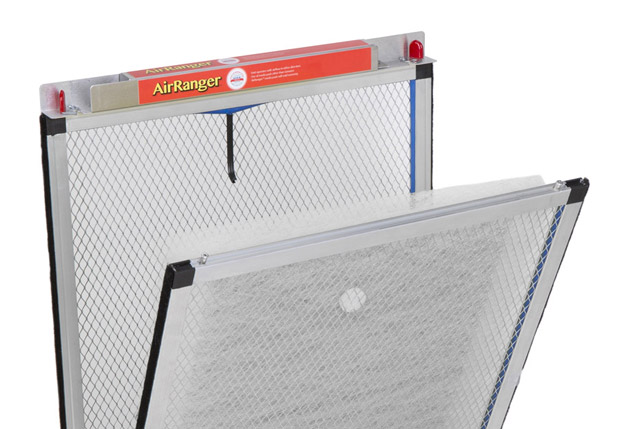 Economical Operation
AirRanger air filters will not reduce the efficiency of your heating and cooling systems and may even improve it. Reduced static pressure at the filter point maintains the air pressure and airflow for which your system was designed. Any increase in power consumption is equivalent to the draw of a 40-watt light bulb. Furthermore, a cleaner overall HVAC environment ensures that your equipment does not have to work as hard, is less expensive to operate, and is less prone to failure.
Simple to Maintain
The AirRanger system's air filters do not need to be washed. The filter media is disposable and easy to replace when needed. It is critical that you change out these media pads on a regular basis. The general recommendation is every three to four months. Smokers and pet owners may need to replace their air filters more frequently.
"*" indicates required fields
Regular Maintenance Extends the Life of Your HVAC System
Fante's also recommends routine HVAC system maintenance to reduce your monthly heating and cooling costs as well as your total cost of ownership. Seasonal maintenance is also important for air quality because we clean the equipment and inspect your ventilation, and an efficient system is less likely to accumulate dust. Furthermore, we recommend that you have your ductwork cleaned and inspected for leaks every few years.
Ask About Air Quality When Installing a New HVAC System
When the time comes to replace your existing home HVAC system, it is also an excellent opportunity to explore air purification solutions. You will have more options available to you and installation will generally be less expensive since it will be integrated into the core installation process. Installing a new furnace, heat pump, or air conditioner is a great time to also install equipment like air purifiers, air scrubbers, humidifiers, and dehumidifiers.
Contact Fante's to Improve Your Home's Air Quality.
For over 20 years, Fante's has been serving homeowners in Pennsylvania and Delaware. We use air filters in our own homes and recommend them for yours, and our team can provide all of the services you require to achieve and maintain optimal air quality. If you have any questions about our products or services, or would like to schedule a consultation or appointment, please contact us today.