We Keep Your Hot Water Flowing
Hot water is an aspect of modern life that we often take for granted, but being stuck with cold water for showers and cleaning the dishes is something we can't ignore. When you have a problem with the water heater in your home or business, turn to the professionals at Fante's. We have decades of experience providing water heater repair services. Our company is fully licensed and insured and BBB accredited, and our plumbers are customer oriented and highly trained, and experienced.
Benefits of Water Heater Repair
Problems with your water heater do not always necessitate its replacement. A professional repair can return your water heater to like-new condition, extend its lifespan, reduce your energy costs, comply with any water heater warranty requirements, and provide you with peace of mind. When you hire Fante's for water heater repair, we will quickly and accurately diagnose the problem. The repair will then be completed in a safe and timely manner. When the repair is finished, we will calibrate and test the unit to ensure that it is operating properly, and then we will clean our work area before leaving.
Contact Us Today by filling out the form below, or calling us at 1-609-835-1512
Quick Contact
"*" indicates required fields
Signs You Need Water Heater Repair
A water heater that stops providing hot water is in obvious need of repair, but there are often warning signs before a unit gets to that point. Irregular water temperatures suggest that you may have a buildup of mineral deposits or that your thermostat or heating element is failing. Discoloration of the water supply can also point to sedimentation or rust in the tank. Running out of hot water too fast usually indicates an issue with the heating element, and you shouldn't ignore unusual smells, odd or loud noises, or any leaks. Even a slow drip is a serious cause for concern.
Residential and Commercial Plumbing Services
Fante's offers a full range of commercial and residential plumbing services for our customers throughout New Jersey. Our team is skilled and experienced with all of the types of water heaters that are used in this region for residential and commercial purposes. We offer water heater repair services for tank water heaters, tankless water heaters, heat pump water heaters, condensing water heaters, and units that run on electricity, natural gas, and propane.
Water Heater Maintenance Plans
Annual maintenance is the best way to extend the life of your water heater and ensure that your unit runs as efficiently and thus affordably as possible. Fante's offers a maintenance plan for both homeowners and businesses that can help you save while ensuring that plumbing maintenance is performed on schedule.
Emergency Water Heater Repair Services
Fante's understands that water heater problems can occur outside of normal business hours and that some problems simply cannot wait until the next day. As a result, we have qualified technicians on call. They are available to assist you at all hours of the day and night, including weekends and holidays. When you call, we'll send a professional to your home or business in a work truck, fully equipped to perform a water heater repair or, at the very least, stabilize the situation until tomorrow.
We also Handle Water Heater Replacement
Fante's provides affordable water heater repair services that you can count on, but if your unit is too far beyond repair, we can help you choose and install a water heater that will serve you well for many years to come. Our water heater replacement services are reliable, and we ensure the job will be completed the first time around.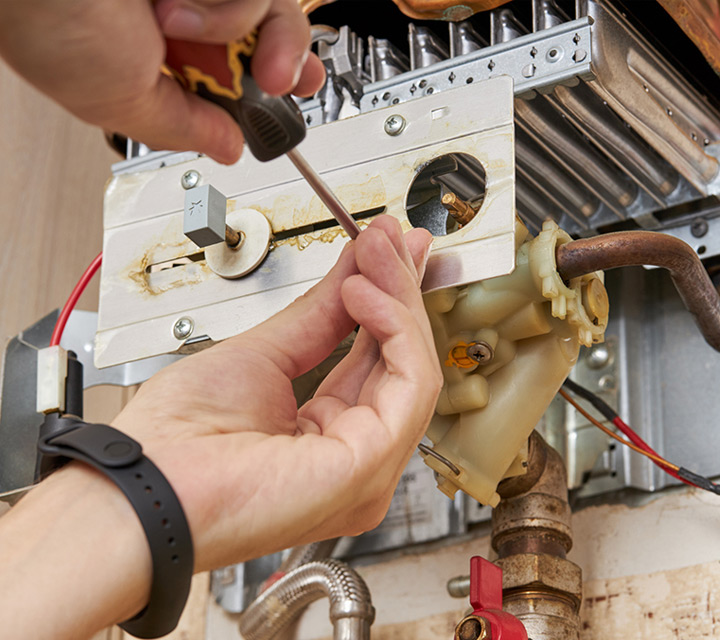 Choose Fante's for Reliable Water Heater Repair
At Fante's, we understand that each type of water heater (traditional tank, gas, electric, large or small) has its own set of issues that must be addressed. When it comes to dependable, exceptional water heater repair services, many homeowners and businesses in New Jersey turn to Fante's. Call us at 1-609-835-1512 or contact us today to schedule an appointment or if you have any questions about the products and services we provide.