Keep Your Drains Flowing
At some point in life, you will most likely run into that pesky, annoying clogged drain. It is one of the most common plumbing obstacles to overcome. Luckily, you can rely on the professional plumbing team at Fante's to help. We've been servicing the area since 1985 with top-notch plumbing solutions and we can help you tackle those irritating clogged sinks, toilets, showers, or tub drains.
Our Pros Unclog Sinks, Showers, Toilets & More
Nothing is more aggravating than a drain that slows or stops working. If left untreated, clogged drains can stink and potentially cause a costly plumbing catastrophe. If your drain is clogged, call the plumbing and drain clearing professionals at Fante's. Certain issues may even be caused by problems with your sewer system on the bottom level of your home.
Contact Us Today by filling out the form below, or calling us at 1-609-835-1512
Quick Contact
"*" indicates required fields
Our Drain Clearing and Plumbing Experts are Available 24/7
Our skilled plumbers at Fante's provide an extensive assortment of plumbing repair services to keep your house or building functioning properly. Our technicians can handle any problem, from drain clearing to fixing leaks to even installing and maintaining water heaters and sump pumps. If you have a sewage system problem, our trusted plumbers can identify it and perform the necessary steps to clear the obstruction.
What Causes Your Drains to Clog?
It is very distressing to discover sewage backing up from your toilet, sink, bathtub, or shower. Fante's has the expertise to deal with this problem and come to your aid. If you see any of the following symptoms, there may be a problem with your sewage or water line, and it is critical that you contact Fante's expert plumbers for drain clearing services today.
Sewage Flowing Back Through Your Drains
Clogs frequently move deeper into your pipes and eventually reach your sewer line. As a result, sewage cannot flow correctly into the sewer system, causing it to back up into your kitchen and bathroom drains. To avoid the mess, call the drain clearing professionals at Fante's to remove the recurrent blockage.
Several Drains in Your Home Are Blocked
When one or more of your home's drains get clogged, water flow is obstructed, resulting in backflow. To avoid future escalation, it is best to address the problem as soon as possible. Contacting the plumbing experts at Fante's for immediate drain unclogging is recommended.
Bad Smells Coming From Your Drain
If you notice an unpleasant odor near fixtures such as your tub or sink that is not coming from the garbage, it is likely that there is a buildup of food, organic waste, or other odorous things in your drain that have to be cleaned. Whatever the problem, our drain clearing professionals will examine the situation and determine the next steps before starting any work. You can then get a clear idea of the best solution for your home's drain.
The Mainline Drains in Your Home are Slower Than Normal
Do you see water collecting around your feet when showering? Is the sink draining slowly and creating a pool of water in the basin? Those signs most likely imply a blockage in your drain. While you can try to clear it yourself, most drain blockages leave debris and residue behind, which is best handled by Fante's experienced drain clearing professionals.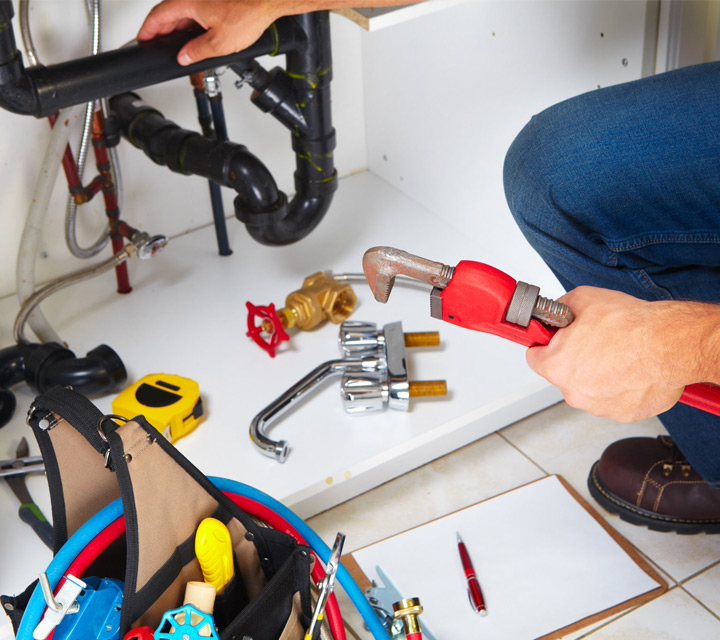 Routine Preventative Maintenance Tactics
We strongly advocate leaving drain clearing and sewage line cleaning and flushing to specialists, such as Fante's skilled plumbers. However, you can help maintain the excellent condition of your plumbing system by doing a few simple tasks.
Only use your toilet to dispose of toilet paper. Other items should not be flushed, even if they claim to be flushable.
Instead of pouring oil or grease down your sink drain, properly dispose of it by placing it in the garbage. Allow any remaining cooking oil to cool somewhat before pouring it into a disposable container to harden before throwing it away.
Use a drain screen to catch hair before it falls down the drain. Attach a metal mesh lint catcher to your washing machine's discharge pipe. Consider installing a drain screen or lint trap in the drain hole of your laundry sink.
Pour enzyme-based drain cleaners into your plumbing system on a regular basis to prevent clogs. These drain cleaners are especially useful as a preventive step because they only target organic pollutants. They are less harsh on your pipes than chemical drain cleaners.
Contact Fante's Plumbers for All Your Drain Clearing Needs
When you hire Fante's for professional drain clearing, you can rest assured that we will locate the source of the clogs and backups in your home's drains. Common culprits include grease buildup, obstructions such as tree roots, excessive use of toilet paper or paper towels, leaks, and a variety of other variables that might cause problems in your sewer system. Contact us online today, and one of our professional plumbers will inspect your clogged drains and provide you with an efficient solution.