Improve HVAC Safety & Efficiency
Why do we always wait until something goes wrong to get it fixed? When you do that, you risk expensive repairs that are completely unnecessary. Instead, we recommend setting up regularly planned maintenance to catch any issues before they happen. This is especially important in the fall and spring. At least twice a year, you should plan a regular maintenance check of your heating and cooling systems. The problem is that most of us forget. Thankfully, Fante's has made maintenance easier than ever with our Yearly Maintenance Contracts. These yearly HVAC or plumbing agreements keep your heating systems up-to-date and running efficiently so your family stays warm and comfortable during those frigid winter nights. And it ensures your cooling system is ready to go as soon as the weather warms up and air conditioning is required. Take the proactive approach to caring for your HVAC system.
Contact Us Today by filling out the form below, or calling us at 1-609-835-1512
Quick Contact
"*" indicates required fields
HVAC and Plumbing Protection Plan Benefits
Becoming a member of our protection plans can save you time, money, and headaches. Our HVAC maintenance plan is designed to provide you with exceptional service in a timely manner. Our maintenance plan is unlike any other, and the benefits you receive will exceed all of your expectations. Some of the many benefits you will enjoy include:
24-Hour On-Call Service


No matter how hot or cold it is, or what time of day, you're at the front of the line. *Not included with single precision tune-ups.

Reduced Diagnostic Or Trip Charge Fee


Our family members pay a reduced after-hours diagnostic charge.

Repair Guarantee


Any heating, cooling or water heater repair we make is backed by our limited warranty.

Trained HVAC Professionals


Every technician is trained to handle any HVAC system and perform any necessary repairs on your equipment. We are punctual, clean, and respectful.
15% Repair Discounts


Receive up to 15% off any HAVC or water heater repair services for as long as you're a member of our family.

2 High-Performance Tune-Ups Per Year


Reduce breakdowns up to 95% & lower heating and cooling costs by up to 30%.

100% Satisfaction Guarantee


Whatever it takes to make you completely satisfied or it's on us.

Loyalty Rewards


You'll earn $100 per system towards a new heating and cooling system for every year you're a member of the family.
Why HVAC Maintenance is Important
Your HVAC system is one of the hardest working systems in your home. It cools your home in summer and heats it during the winter months. This continual use can lead to wear and tear on many of the mechanical parts. Regardless of the equipment age or original cost, parts will wear out with time.
Worn parts lead to underperformance and breakdowns. When your HVAC system is underperforming, it is causing more stress on the unit. This leads to more damage to your unit and to higher heating and cooling bills. Eventually, your HVAC system will become too worn and break down. This can lead to expensive repairs. When you have regular maintenance performed on your HVAC unit, you are ensuring that any worn parts are replaced and that your unit continues to work at peak performance. This will help extend the life of your unit and prevent unnecessary system failures.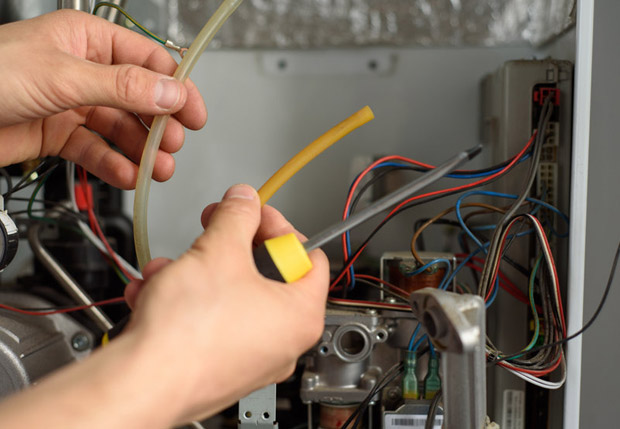 What's Included in Our HVAC Maintenance Plan
With every inspection, Fante's will test, check, and inspect every moving part and system in your HVAC unit. We are going to do more than just visually check these systems. We will use the appropriate tools, gauges, and digital devices to check even the smallest parts of your system. When we have performed maintenance on your HVAC system, you can feel assured that everything is in top working order.
Measure Temperature Rise
Measure & Adjust Gas Pressure
Check Limit Switches & Mounts
Check Burner Crossover Parts
Brush, Clean & Vacuum Burners
Safety Inspection of Heat Exchanger
Combustion Analysis
Check Pressure Switch
Check Condensate Pump
Clean or Replace Standard 1″ Filter
Measure Amp/Volt of Blower Motor
Calibrate & Level Thermostat
Inspect Flue Piping for Leaks
Test Gas Connections
Inspect All Electrical Connections
Check Circuit Board
Check Blower Capacitor
Measure Inducer Motor Amps
Test Exhaust System for Proper Venting
Check Proper Flue Rise
Measure Flue Clearances
Check for Flammables Near the Furnace
Test Ignition System
Check for Carbon Monoxide Detectors
HVAC Systems We Service
Fante's is proud of the fact that our technicians can work on any type of heating or cooling unit. Their extensive experience covers HVAC, furnaces, heat pumps, boilers, and ductless mini-split systems. We can repair any unit that utilizes electric, gas, or propane. We cover all manufacturers and models with our HVAC maintenance plan.
Central air conditioning and heating systems work by pushing air through the home to achieve the desired temperature. This occurs as the unit pulls in air, heats or cools it, and pushes it through your ductwork so that it is evenly dispersed. Fante's can correct any problems that arise in any of these areas.
Central air conditioning systems are now the most popular type of system installed in homes. These systems can cool or heat your property, offering total climate control through one system. The experienced technicians at Fante's have the necessary skills to repair and maintain all types of central air conditioning units.
Heat pumps are very efficient systems that can be used to heat or cool your home. These systems use condensers and evaporators to adjust air temperature. These are large mechanical components that require regular maintenance to run at top performance.
Radiant Heat Boilers
Heated water is very efficient at transferring heat into a room through a radiator. Many homes still use radiant heating systems. Fante's can service all types of radiator systems to ensure that all parts of the system are working properly and that your home stays warm.
Mini split systems do not use ductwork to distribute hot or cold air throughout your home. However, these systems still have large components that must be maintained for them to remain in good working order. Fante's can service all ductless mini split systems as part of our HVAC maintenance plan.
Plumbing Protection for Your Water Heater and More
The Fante's Plumbing Protection Plan covers one whole home plumbing safety inspection per year. The experts at Fante's make sure your home and plumbing essentials are working properly and safely within you home.
The most common type of water heater is a tank heater that holds heated water in it at all times, ready for use. These tanks are heated using either electricity or gas. The experts at Fante's can maintain your water heater to ensure it remains energy efficient.
Tankless water heaters work "on-demand." Water is heated when it is used, and there are no storage tanks holding and heating water all day. This saves money on your utilities and reduces the space you need to have a water tank.
A heat pump water heater can work as a stand-alone system or with your heating and cooling system. These systems are very cost-effective and can help you reduce your energy consumption. If your heat pump water heater needs maintenance, call Fante's today.
Enroll In Our Trusted Protection Plan Today
Your HVAC system and your water heater are two of the most used systems in your home. Enrolling in our HVAC maintenance plan can help you extend the life of these systems, reduce your monthly expenses for heating and cooling and avoid breakdowns. Fante's offers a superior HVAC maintenance plan that provides you with a comprehensive maintenance service twice a year, discounts on other services and repairs, and quicker response times for repairs than those not part of the family plan. If you want to make sure that your HVAC systems and water heaters remain in peak condition, sign up for our HVAC or Plumbing Service Plan today. Give us a call at 1-609-835-1512 or contact us online to get started!