Trust Fante's with Your Home Comfort
For over 30 years, Fante's has been a well-known and trusted furnace repair company. Many homeowners in New Jersey choose us for all of their furnace-related needs because we value integrity, emphasize excellence in customer service, use only the best parts and materials, and provide superior workmanship to each and every client.
Signs You Need Furnace Repair
There are usually warning signs of a problem before it gets to the point where the furnace stops blowing warm air or doesn't blow air at all. Inconsistent temperatures throughout the house or having to set the thermostat higher than you think is necessary are common signs that your furnace is in need of repair. Service is required for furnaces that cycle too frequently or too infrequently. You should be alert for any strange sounds or odors. Never completely ignore a sharp increase in your utility bill or an increase in dust accumulation. If you have a gas furnace, you should regularly check the pilot light and contact our furnace repair company right away if it is anything other than bright blue, possibly with a yellow tip.
Residential Furnace Repair Services
Fante's is the furnace repair company that area residents can rely on to provide accurate and honest information and to carry out repairs that give them peace of mind. Our NATE-certified technicians work on all makes and models of furnaces, including electric, natural gas, propane, and heating oil.
Contact Us Today by filling out the form below, or calling us at 1-609-835-1512
Quick Contact
"*" indicates required fields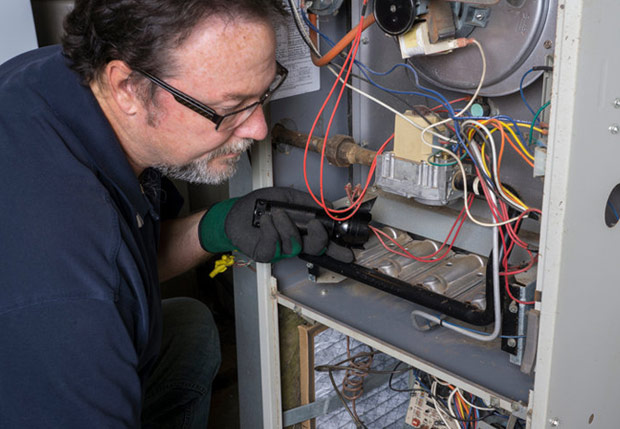 Extend Furnace Life with Regular Maintenance
In order to prepare for the upcoming winter, Fante's suggests having your furnace inspected, cleaned, and tuned up in the fall. The preventative maintenance carried out by our furnace repair company lowers your total cost of ownership by lowering the likelihood of unexpected breakdowns, ensuring that your system is operating at peak efficiency, lowering your monthly utility costs, and extending the life of your furnace. Our technician will perform a multipoint inspection, clean the system, examine all electrical and fuel-burning parts, change the HVAC filter, test the safety controls, and measure gas, airflow, and static pressure during a maintenance appointment.
Residential Heating Systems We Service
While furnaces continue to be the most popular heating solution for homes and businesses in New Jersey, we offer services for all heating technologies used for residential and commercial purposes in the state. Heat pumps, radiant heat boilers, and ductless mini splits are examples of these.
Heat Pumps
Heat pumps are high-efficiency HVAC systems that can heat and cool a home or building. Such systems have become more common in our region as technology has allowed them to be more efficient in extremely cold temperatures, but they can also be combined with auxiliary furnace heating.
Radiant Heat Boilers
Radiant heat boilers, including both hot water and steam boilers, are an alternative to furnaces that have the advantage of not blowing air and thus affecting indoor air quality. Traditional systems have wall and baseboard radiators, but you now have options like radiant floor heating.
Ductless Mini Splits
A mini split is a heating and cooling system that is not connected to ductwork and instead directs conditioned air directly into the living space. This makes them an excellent choice for homes and buildings that lack ductwork, but it also makes them an excellent choice for zoned HVAC systems.
We're Your Furnace Repair Company
Fante's stands out among the many companies in the area that offer furnace repair services. Our company was founded on the principles of integrity, commitment, excellence, teamwork, innovation, and knowledge. Our repair technicians are NATE certified and receive ongoing training to stay up to date on industry advancements. We only use high-quality parts and materials, and we perform precise repairs on which you can rely, as well as many other advantages such as ensuring optimal energy efficiency, safe operation, and lower energy costs.
Emergency Furnace Repairs
At Fante's, we understand that a furnace failure cannot always wait until it's convenient for you, and our furnace repair company has repair technicians on call to ensure that you don't have to wait long. Call us at any time of day or night, including weekends and holidays, and we'll be there quickly to diagnose your furnace problems and restore your heat.
Residential Furnace Replacement
Our professional furnace repair company also offers a full range of residential furnace replacement services if your furnace is too far beyond repair. We can assist you with choosing the ideal furnace model for your home. Our team also carries out conversions, such as a boiler to a furnace or electric to natural gas.
Give The Experts at Fante's a Call When It's Time For Furnace Repair
When your heater isn't functioning properly, it's critical to get it fixed as soon as you can. Our knowledgeable and skilled furnace repair company has the skills to accurately diagnose your problem and make long-lasting repairs so you can keep warm all winter. We guarantee all of our repair work, and if it breaks for any reason within two years, we'll fix it at no additional cost. For an appointment for your heating repair, call 1-609-835-1512 or contact us online.