Reliable Plumbing Hookups for Appliances
When homeowners in New Jersey need appliance gas or water hookup services, they call the professionals at Fante's. We are a family-owned and -operated plumbing company that has served this region for more than 25 years. Our certified plumbers have extensive experience and receive an ongoing education. They have great familiarity with modern appliances from all the top brands, and you can count on them to install and configure your new appliances for dependability and efficiency for many years to come.
What Is Appliance Water Hookup?
There are many appliances in your home that need to be connected to your plumbing system. These appliances include refrigerators with ice makers and water dispensers, dishwashers, and washing machines. When you have these plumbing appliances installed, it's important that you have the installation carried out by a professional plumber. A plumber is able to ensure that the appliance is connected to the plumbing system effectively and not putting any excessive strain on it. The extra measures a plumber will take not only protect your home's plumbing system but ensure that your new appliance operates optimally, uses water in an efficient manner, and enjoys a long lifespan.
Contact Us Today by filling out the form below, or calling us at 1-609-835-1512
Quick Contact
"*" indicates required fields
We Also Handle More Intricate Water Hookup Projects
When it comes to the plumbing in your home, Fante's has you covered, and we do a lot more than appliance water hookup for normal, everyday projects, such as kitchen and bathroom fixtures. Our team also performs more involved home improvement projects as well, such as installing appliance water hookup to basement wet bars. Contact one of our experts today to learn more.
Water Line Repair Services
The water main is integral to your home's plumbing because it's what connects your plumbing system to the municipal line or your well. If a leak occurs, it's important to repair it as soon as possible, and we provide those services as well. If you live in an older home, we can also perform an inspection and assessment and, if necessary, carry out an upgrade to bring it in line with modern code.
Choose a Trusted Appliance Water Hookup Company
There are many handymen and companies that offer appliance water hookup, but many if not most of them aren't plumbers. When you choose Fante's, you're choosing a residential plumbing contractor with extensive experience, and you hire us with the confidence that we're going to complete the job the right way the first time around. You also have the peace of mind that we're an established and trusted company that's going to be there to continue standing behind our work.
Our Maintenance Plans
Many homeowners don't think about their plumbing until they need appliance water hookup or something goes wrong, but if you take a proactive approach to it, you can actually save significantly over the long term. Fante's offers an annual maintenance plan. Each year, we'll come out to your home and inspect your entire plumbing system, including your water heater and appliances. As a member, you'll also receive many additional benefits, including loyalty rewards, a 15% discount on repair, reduced diagnostic and trip charge fees, and 24-hour emergency availability.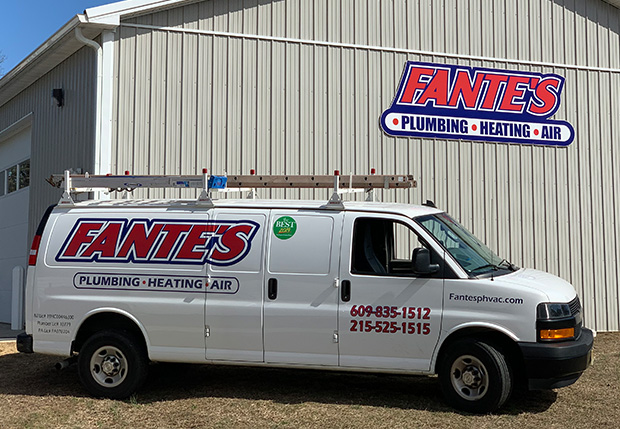 Trust Fante's for Appliance Water Hookup
Many homeowners throughout the region trust Fante's, and we're confident that once you experience our workmanship and approach to customer service, you'll never want another plumber to service your home. Call us today at 1-609-835-1512 or contact us online to schedule an appliance water hookup appointment or with any questions about our services.