Contact Our Expert Plumbers Right Away
If you are a South Jersey homeowner who is having problems with your toilet, you can put your trust in Fante's. Since 1985, we have been providing toilet repair services in this area as a residential plumbing company. Our dedicated plumbing team is prepared to handle a wide range of toilet-related issues quickly and reliably. We take pride in delivering exceptional craftsmanship and only use high-quality parts and materials. Furthermore, all of our work is backed by a service warranty and a satisfaction guarantee.
Why Call Fante's
Fante's has been a reputable and well-known name in South Jersey for more than 35 years, we are the best choice for your leaking toilet repair needs. All of our plumbers have years of experience stopping leaks and protecting homes from water damage. Every time we perform work for clients, we hold ourselves to the highest standards of craftsmanship, and we will never settle for anything less than your complete satisfaction.
Contact Us Today by filling out the form below, or calling us at 1-609-835-1512
Quick Contact
"*" indicates required fields
What Causes a Leaking Toilet?

A leaking toilet can result from various factors, but the most common culprits typically involve issues with its water line connections. One prevalent cause is a faulty or worn-out flapper valve located inside the toilet tank. When this rubber seal deteriorates or doesn't seat properly, water can continuously flow from the tank to the bowl, leading to a persistent leak. Another frequent source of leaks is a damaged or loose fill valve, which controls the water level in the tank. A malfunctioning fill valve can lead to overfilling or inconsistent water levels, causing water to escape through the overflow tube or other openings. Additionally, cracks or fractures in the porcelain tank or bowl can also result in leaks, while loose or improperly sealed connections between the toilet and the water supply line can contribute to drips and puddles around the base. It is critical to identify and address the specific cause of a leaking toilet as soon as possible to avoid water waste and potential water damage to your bathroom floor.
Toilet Replacement Services
We can replace your toilet whether you want to upgrade to a toilet with the features you want or because it is outdated and should be retired. We can install toilets and other fixtures that our customers have purchased on their own in addition to selling the best toilets from the best brands at competitive prices.
Signs You Need Toilet Repair or Replacement
If you notice a toilet leak, turn off the water and then call Fante's right away for assistance. Clogs can occasionally appear to be no big deal and can come and go, but if they happen frequently, it probably means there is a deeper issue. If your toilet is running for extended periods, call us as well because the cost of water loss will mount over time. Any excessive moisture near the base of the bowl or under the tank requires professional attention, and a loose toilet handle is typically a sign that it's time to replace the assembly in the tank before bigger problems arise.
Can I Fix A Leaking Toilet Myself?
When it comes to something as seemingly straightforward as leaking toilet repair, we certainly understand the allure of a DIY project, but homeowners frequently waste more time and money than they would've if they had simply called Fante's in the first place. Our costs are reasonable. You never have to be concerned about choosing the right components or having the appropriate tools because we provide craftsmanship that endures the test of time.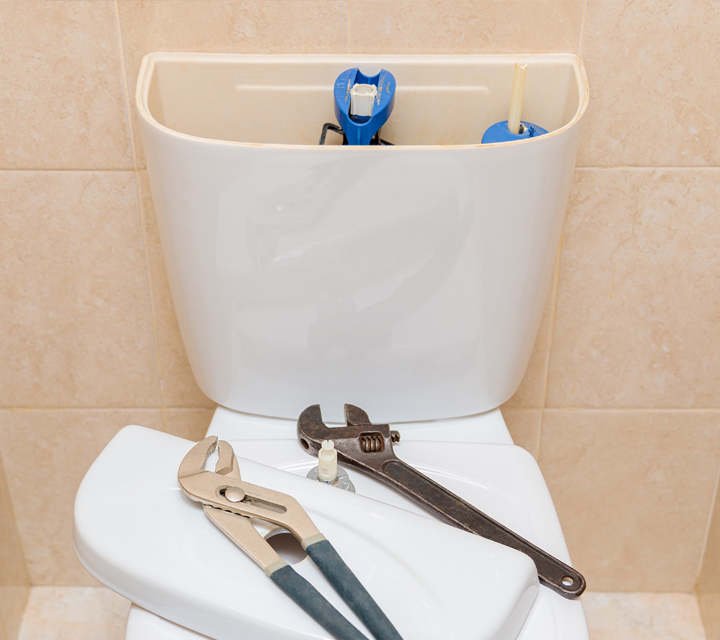 Emergency Plumbing Services
Fante's understands how crucial toilets are to your standard of living and that a toilet repair can't wait until the next day. We have plumbers available every day of the year, including weekends and holidays, at all hours of the day and night. Whenever you call, we'll dispatch a plumber as soon as we can to get your toilet working properly once more.
Our Plumbing Protection Plan
When it comes to their toilets and other plumbing fixtures, many homeowners try to save money by waiting for them to break, then fix them. We advise yearly maintenance to prevent toilet repair and other unforeseen issues and actually lower your plumbing-related costs. Our Plumbing Protection Plan also includes additional benefits, such as a 15% discount on any repairs that you need as a plan member.
Get Help with Your Toilet Today
Choose Fante's for prompt, cost-effective leaking toilet repair. Our expert plumbers are just a phone call away. Call 1-609-835-1512 if your toilet is leaking and needs to be fixed right away. If it is not an emergency you can contact us online and one of our representatives will get back to you as soon as possible.